adidas Pro Model Lux
MODEL: ADIDAS PRO MODEL LUX
SERIES: ADIDAS MMVII
TYPE: BASKETBALL
MADE IN: INDONESIA
MADE ON: 01/07
ART.NO: 665062
Whenever adidas combines a classic silhouette with a luxury release they often guarantee success. This Pro Model Lux from 2007 is a great example. The shoes are extremely comfortable, roomy, and very suitable for sports use. The shell toe gives maximum durability and the high-cut ankle collar provides extra support.
The shiny, black, lizard skin, leather upper is broken up only by the dark, charcoal grey side stripes, white rubber toe box, and rich red tongue. Matching red stitches accent the perforated stripes and also line the white, leather, outer edge of the tongue before its final, black trim. The grey heel patch is also lined with red stitching, and displays the trefoil logo in a dull gold print. The Side panel is printed with the model name ('PRO MODEL') as usual and the tongue is decorated with an elegant emblem that includes the trefoil and the roman numerals 'MMVII', representing the year the shoes were released.
The innersole is a plush and comfortable tan leather. The toe box and outsole are white rubber, with the lower layer of the outsole done up in black to match the colorway nicely. The shoes come with a pair of dark grey laces that shine ever-so-slightly.
written by Dylan Cromwell
photography by Harold Kohn
Related shoes: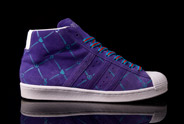 adidas Pro Model Vintage "Janus"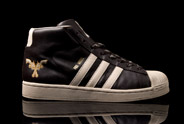 adidas Pro Model 2 Pistol Pete Maravich Edition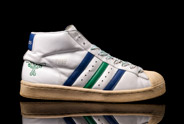 adidas Pistol Pete Pro Model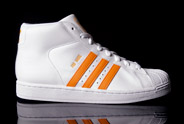 adidas Pro Model 2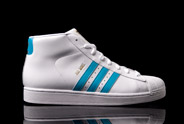 adidas Pro Model 2