adidas Artillery SE Hi
MODEL: ADIDAS ARTILLERY SE HI
TYPE: BASKETBALL
MADE IN: KOREA
MADE ON: 06/91
ART.NO: 073729
Holding this pair right now makes me wanna bawl. It's so seriously unfortunate that adidas had to design Torsion soles the way they did back in the 90s; making them completely unwearable years later.
But let's back up a minute before we bash this incredibly dope basketball boot. The adidas Artillery is a model name still resounding through O-Store's even today, with as much exposure as possible, and at the height of its hype the silhouette was even handed to the daring (and sometimes disastrous) designer Jeremy Scott to splatter and screw about a bit. And before the remakes, the vintage version was pushed out in a variety of styles back in the day. Pictured here though, is the second edition (and this is most likely what the 'SE' in it's model upgrade name stands for) baring a large Roman numeral 'II' on the tongue.
The adidas Artillery in a nutshell: vintage, classic colorway (white canvas with a secondary hue), decently thick leather uppers stocked with soft, ample inner lining, wide-ass tongue for that fatty popped out look, and crazy eyelet system for a variety of lacing styles. Even the sole design itself looks fresh with its angular slices and spacey build.
Down to the nitty gritty, adidas placed the infamous Torsion sole unit in, allowing the wearer to twist the sole in way that helps to separate the forefoot and backfoot movements, isolating them, and (supposedly) providing better maneuverability and support. I'm no basketball player, so I can't personally attest to this feature, however I know many a lad would swear by the Torsion technology, in both basketball and running shoes, so adidas must've got something right over the years. As well, the non-marking outsole isn't a problem either, offering support, waffle grip cups, and a soft-cell pivot point in the ball of foot, all thrown together with a funky futuristic geometry; zig zag treads and bubbles in the back.
It's that damn foam midsole that ruins the entire package. Literally crumbling to dust as one takes the first few steps in even a brand new, unopened, unlaced, deadstock pair. It's a sad, sad day to pull these out of the OG blue and white carton to find they meet the fate that is their inevitable truth. I can't say this is necessarily true about every single Torsion shoe that adi dropped back in the day, but collectors beware; if you buy to wear than you'd best steer clear of Torsion, or at least of the Artillery SE Hi.
written by Dylan Cromwell
photography by errol
Related shoes:
adidas Association Hi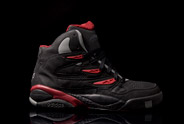 adidas Mutombo 2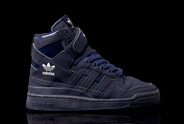 adidas Forum Hi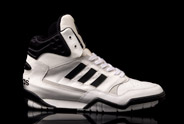 adidas Invader Hi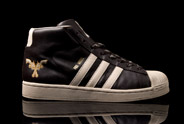 adidas Pro Model 2 Pistol Pete Maravich Edition