adidas Pro Model 2
MODEL: ADIDAS PRO MODEL 2
TYPE: BASKETBALL
MADE IN: INDONESIA
MADE ON: 07/11
ART.NO: G49854
Before the Superstar there was the Pro Model. In 1965 adidas introduced their first purpose-made basketball shoe with hopes to gain a foothold in the market share that was dominated by the mighty Converse, the official shoe of the National Basketball Association at the time. The very first Pro Model was not dissimilar from its American competition. It sported a high top canvas upper that provided only a minimal amount of ankle support for players. The resulting injuries were fairly commonplace. adidas' Chris Severn is credited with the idea of switching to an upper made entirely of leather to provide significantly more support, not just at the ankle but across the entire upper. It was also Severn's idea to add the distinctive shell toe to protect the toe box as well as the equally iconic herringbone outsole. In 1969, these groundbreaking changes not only reinvented the Pro Model, they gave birth to it's low top version; a silhouette called the "Superstar".
While the Superstar went on to enjoy the iconic status that is held by only a few trainers in the history of footwear, the Pro Model played a lesser role in that same history. adidas continues to release a number of pseudo shell-toed high top models called "Pro Models" under its Performance line but the number of Pro Model releases that fall within the Originals line are far fewer than its low top, but more famous, little brother.
In 2011, adidas Originals released five Pro Model 2 shoes in simple, classic colorways. Probably the most appealing of these five releases is this white and "intense blue" model. The shoe still carries the herringbone outsole and the shelltoe of the original, the latter having been changed over the years from a smoother surface to one with a much more pronounced texture. Like the Superstar 2, the Pro Model 2 also has more padding on the tongue and ankle area than a vintage or 80′s model would have. The particular lighter shade of blue on this shoe seems to flatter the white Pro Mod silhouette very nicely. What sets this and the other 4 colorways apart from the typical Pro Model 2 are the subtle but inspired gold touches. The "Pro Model" text on the side of the upper as well as the logos on the heel cap and tongue are all represented in an attractive metallic gold. The shoe shipped with a single set of white laces.
There's no debate about which shoe is king of the adidas castle. There never will be. But casual collectors and heads alike would do well to stray from the comfort of your Superstars and slip on a pair of what is really the OG shelltoe.
written by Michael Sterling
photography by errol
Related shoes: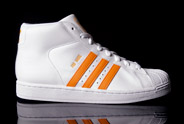 adidas Pro Model 2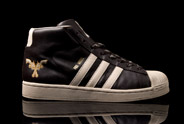 adidas Pro Model 2 Pistol Pete Maravich Edition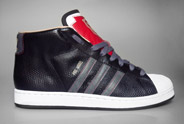 adidas Pro Model Lux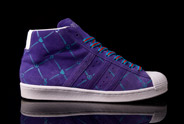 adidas Pro Model Vintage "Janus"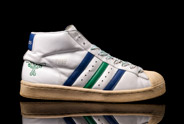 adidas Pistol Pete Pro Model