adidas Pistol Pete Pro Model
MODEL: ADIDAS PRO MODEL
TYPE: BASKETBALL
MADE IN: INDONESIA
MADE ON: 12/05
ART.NO: 451471
Pistol Pete is a name that is not only well-known on the basketball court, but also within the sneaker scene too. Peter Press Maravich inspired many sneaker designs – and even his own silhouette – but it's arguable that his biggest imprint on adidas Originals was the Pro Model.
This classic silhouette was done up in a shiny, smooth, white leather upper with complimentary colors shouting out against it. Blue and green side stripes, a blue heel patch and tongue tag, and finally the green, twin pistol logos on the heel and laces. The final dose of nostalgia comes from the off-white shell toe and outsole, bringing back that vintage look and feel.
Overall a great new colorway on an old '70s silhouette, showing that adidas doesn't forget to get the archive some love now and again.
written by Dylan Cromwell
photography by errol
shoes contributed by Chris SoleconneXion Leal
Related shoes: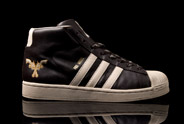 adidas Pro Model 2 Pistol Pete Maravich Edition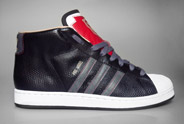 adidas Pro Model Lux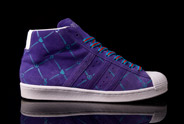 adidas Pro Model Vintage "Janus"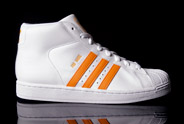 adidas Pro Model 2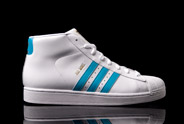 adidas Pro Model 2