John Schofield
Having already dropped an article on John Schofield's restoration talents, we climbed back into the UK artist's lab to dissect his process of custom trainer dying.
Let's start with the basics John; what got you into trainers in the first place?
I got into trainers as an extension of being involved in the 'casual scene' (for want of a better phrase but that's how best to describe it) and I just found myself getting more passionate about the trainer side of it than the clothing, although I find one as important as the other and in just the same way as it's with clothing – wanting to find and wear stuff that others weren't wearing – I found myself hunting down hard to find and vintage adidas.
Were you an artist in other ways before beginning to work on trainers?
Apart from being good at art in school, no, I wouldn't classify myself as an artist, although I have always been good with my hands, and this is reflected in my day job as a joiner / carpenter. I take a lot of pride in my work in both my day job and my trainer work.
What is it that draws you to do work like this?
I love this kind of work Dylan, it brings out the more artistic side of the service I provide, most of what's been produced so far are the result of being given customers' shoes and being let loose on them! Sometimes they give me an idea of colourways or colours they like or dislike and I take it from there. The lilac and yellow and the green and red Tobacco's were produced mainly so people could see what could be done and provide inspiration. The hardest bit is finding colourways that are both unique, but more importantly, work well on the Tobacco silhouette, I'm more drawn to contrast with the tobacco than conflict as it's more in keeping with the ethos of what a Tobacco shoe should be, but with that said, boundaries are there to be broken!
You might've already partially covered this but how did you migrate from restoration to customization?
It really came about from being sent light coloured trainers and being asked to produce a unique colourway with them. People wanted something to wear that was different from what others were wearing. They were looking at previous releases that were hard – if not impossible to acquire – and reproducing that colourway on a workable trainer… colourways like the Rouge or T-Master for example.
Can you recall the first pair you customized and how it went?
I had to think hard about that one! But it was a pair of grey nubuck Gazelle's that I re-dyed in kelly green, thus producing a unique pair of Gazelle's. They came out a fantastic shade of green and the results can be seen on my restoration page on facebook.
As for models, what have you customized so far?
As mentioned the adidas Gazelle, and I've also done custom work on the Malmö and of course the Tobacco.
What models do you plan on customizing in the future?
I'm waiting for some white suede Samba's to get reduced on the adidas website and then I'm going to buy a couple of pairs and experiment on them. I've also extended the customizing into painting stripes as well now so that's opened up more colourways to try out, though the hardest part is coming up with colourways that are both unique, but more importantly colours that work together!
Is the model itself so important or can people send you anything to be customized?
The model isn't important, no. As long as the colours wanted will cover whatever colour the trainer is to start with then it can be done. What I mean by that is you can't re-dye a dark colour to a light colour. The best thing to do is send me a pic of the trainer and what colours are wanted and then I can assess and advise as to whether it will work or not.
What can you tell us about the customization process you go through?
The process is virtually the same as the restoration side which people can read about on the other article, but the difference here is there's a lot of extra work involved with these, with them being white you have to lift all the edges of the stripes, lacestays, and heel tabs to ensure the dye has covered every part of the trainer as this will show if you don't, and you'll see the white peeking through. You also need to lift these edges to avoid any dye transfer into areas you don't want it. This process is repeated for both the body of the trainer and the stripes and heel tabs for the same reason. There's also the extra work of painting the tongue tab to match the stripes and the sourcing of suitable laces (or dying the ones supplied) and these take far longer to do, are more tricky, and use up far more dye than the straightforward restoration stuff, but the rewards help to outweigh that!
Now specifically about these first two shoes, why did you pick these colorways, where did your inspiration come from?
Pretty much as I said earlier, the lilac and yellow and the green and red were chosen as I think they're two unique colourways and I just wanted to showcase what could be possible and inspire people. The following colourways are trainers belonging to customers who together we bounced ideas around until we came up with the colourways you see now.
Can we expect more colorways to come in the near future?
Very much so! I've a head full of ideas and things I'd like to do, so the only real limits are the limited range of colours available, which is something I'd love Angelus to address, as their range of leather paints is huge, whereas the suede dyes are a relatively small range sadly…
Are you selling these? If so, where can people pick them up and how much are they?
The first few pairs I produced for myself will be up for sale, yes. Mainly to free up the funds to buy more donor shoes to try out new colours. I'm not actually producing a range of trainers that people can buy but do them as individual orders based on size and requirements.
So folks can order custom colorways from you?
Yes, this is how I do them, each pair is produced individually for each customer, they can either buy the shoe and send them to me or if available I can buy them and have them sent straight to me, but I do ask for payments up front so I'm not stuck with any trainers which people decide they can't pay for and leaving me out of pocket!
Lastly, for those interested, what colors do you currently stock? Or must you order the colors someone wants every time?
I carry a full range of colours but of course I do need to re-stock and sometimes I do need to order colours as required as I don't want to be outlaying on a load of colours I won't use so I tend to wait for re-stocking when orders come in.
John, as always, thank you so much for sharing your talents and creativity with us. Is there anything else you'd like to add or say to our audience?
Thanks for taking the time to read this article and showing an interest in my work, I'm always happy to answer any questions or inquiries you might have, but please, only if you actually want it doing, as I do get a lot of tire-kickers and time-wasters, which just takes up time I don't have! Oh, and a bit of politeness doesn't go amiss either!
written by Dylan Cromwell
photography by errol
Shoes customised by John Schofield: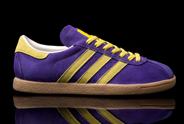 John Schofield x adidas Tobacco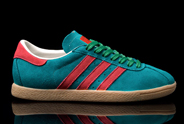 John Schofield x adidas Tobacco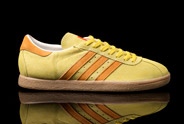 John Schofield x adidas Tobacco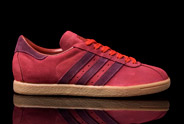 John Schofield x adidas Tobacco