PUMA Shadow Society Pack 2
SERIES: PUMA SHADOW SOCIETY
PACK: PUMA SHADOW SOCIETY PACK 2
MADE ON: --/12
In the same sensibility that formed the PUMA Shadow Society, we'd like to give you the slightest little taste of what's come out of the second installment in this elusive, collaborative series. A few quick photos to wet your appetite and coerce you to chase these products down if you haven't already copped them.
At the heart of the pack is of course some fresh trainers; both the R698 and the ZDC82 return in two colorways each. The R698 appears in a red "plum" and "rio" red colorway as well as a "shale" brown and "mosiac" blue getup, while the ZDC82 is featuring both "tango" red and "true" blue designs against a grey base with their own separate color highlights (in yellow and orange respectively).
On top of those four trainers, PUMA's elite crew of mystery mentors push out a played down jacket, calm collared shirt, and a silently flashy, black on black tee (not pictured here). All completed in an original style, they're carefully designed to not outshine the shoes, a subtle detail that many may not have noticed, but of course definitely makes sense if you consider what the whole purpose of the pack originally is (to release new shoes, no doubt).
And the final icing on the cake is a backpack, featuring the same played down style as the apparel with a bit more flash going on thanks to the brighter, tan leather straps and Illuminati eye patch applied for further intrigue and cult iconography.
Made available by late November of 2012, the list of locations selling the pack is larger than one might think. Take a look at Grand (Switzerland), Colette or BKRW (France), The Special or Sneaker 76 (Italy), Sneakersnstuff (SNS) in Sweden, Barcelona's own Limited Editions, Berlin's well-known Solebox, Juice of Taiwan, Hong Kong housed A&P, Korean Kasina, both Undefeated (UNDFTD) Tokyo and Shizuoka in Japan, and a gang of boutiques in the UK: Hanon, Footpatrol, Boxpark PUMAtwentyone, Wellgosh, Ranshop, END, Cooshti, Mainsource, Crooked Tongues, Urban Industries, Academy, Chimp, and Consortium.
written by Dylan Cromwell
photography by errol
special thanks to Lucy
Products in this pack:
PUMA R698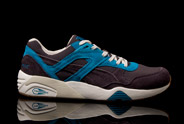 PUMA R698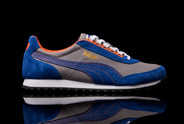 PUMA ZDC82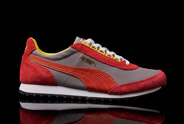 PUMA ZDC82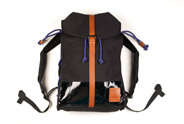 PUMA Shadow Society Backpack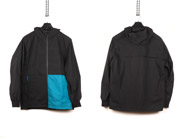 PUMA Shadow Society Jacket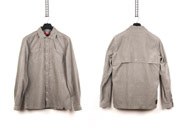 PUMA Shadow Society Shirt