adidas Pro Model Vintage "Janus"
MODEL: ADIDAS PRO MODEL VINTAGE
SERIES: ADIDAS FLAVOURS OF THE WORLD
TYPE: BASKETBALL
MADE IN: INDONESIA
MADE ON: 10/07
ART.NO: 915350
Originally released in 1966, calling the Pro Model a 'classic' could quite possibly be the largest understatement one could make about an adidas model. With that said, it's quite true that the silhouette has lost a large portion of it's popularity over time, and that in general it seems to take an acquired taste these days to tempt a retro or redesigned purchase. And if that's true, then the "Janus" Pro Model Vintage from the Flavours Of The World (FOTW) series will certainly require an even more eccentric appetite to be lapped up and laced to one's feet.
The FOTW series is best explained by the stiff, brown and gold card that can be found inserted to the matching, elegant shoe box. It reads:
Serving up a monthly celebration of iconic adidas models, the Flavours Of The World range provides a unique variety of sneaker styles. Authentic silhouettes have been interpreted and inspired by annual celebratory events for your enjoyment. Presented in luxurious materials and offered in limited numbers, the Flavours models should be appreciated and worn with vivacity.
Dropped in January, this was first Flavour to be made available in 2008, and with each release having its own story the card goes on to explain what lies behind the Pro Model Vintage "Janus":
January's Flavour Of The World is inspired by Janus: the Roman god of beginnings. Known as the custodian of the universe, Janus is lord over the first hour of every day, the first day of every month and January – the first month of every year. Visually, he is represented by two heads looking back to back and he also symbolizes many other things: the transtion between primitive life and civilization, rural and urban existence. Youth and old age and the balance between peace and war.
If that isn't an epic precursor to a shoe design than I don't know what is. And the colorway ain't quiet either. Purple suede, cool neon blue, a rivet of sharp red. The colorway employed upon this already ugly duckling of a silhouette is beyond unique: it's certainly one-of-a-kind. Only that's not always a good thing (just take a look at a lot of Jeremy Scott's work). We personally dig the purple and find that the secondary colors do in fact compliment it well. However to throw blue on the outsides and red on the medial walls is a bit weird, mildly smelling of the same sort of gimmick put in place on the B-Sides Campus 80s (with their animal hair stripes only on the inside). To some this may be clever or daring, but I'm not so convinced. It feels like a last minute ditch attempt to bring the kicks to life. In fact, the blue and red patterning itself it's the hottest thing to look at and it's quite possible the shoe would've sufficed fine with a simple, solid purple upper against the laser ice cream laces. In hindsight this is certainly the type of release that should push the envelope, seeing as how it's a Consortium drop. Keep it simple or simply call it Consortium, I guess.
Over in the praise camp though we're digging the white shell and sole, especially how they match the white sockliner. Brilliantly played to help one's eyes focus on the centerpiece that is the rich purple suede upper. As well we've got a thing for these outlandishly gorgeous boxes adidas seems to enjoy churning out, and this one is no exception. Certainly a feast for the senses, although the center divider is quite a useless idea that only tends to jack up the price of shipping due to the excessive (and unnecessary) extra space the super big box takes up.
All in all these are some damn memorable sneakers – if not for their god-given background than certainly for their crazy colorway – but whether or not they're fashionably comfortable to wear is an entirely different tale. Wish we could ask Janus what he thinks.
written by Dylan Cromwell
photography by errol
Related shoes: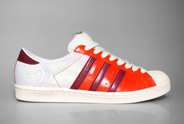 adidas Superstar Vin "Qing Ming"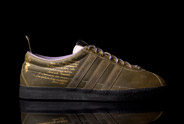 adidas Gazelle Vintage "Lavender"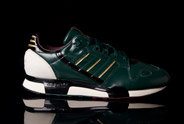 adidas ZX 800 "Vine"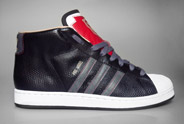 adidas Pro Model Lux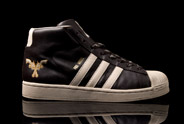 adidas Pro Model 2 Pistol Pete Maravich Edition